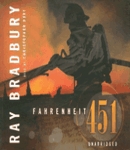 Title: Fahrenheit 451
Author: Ray Bradbury
Narrator: Ray Bradbury
Length: 6 hours, 31 minutes
With the resurgence of dystopian stories (hello Hunger Games audio book), we've been inspired to go back to the classics in the genre—and we're bringing you all the way back to grade school with this one.
Fahrenheit 451 is one of the most influential novels of the 20th century, in which Ray Bradbury boldly takes on mass media, censorship and conformity. The story is set in a futuristic United States where books are banned, society values happiness and order over truth, and citizens happily avoid the need to think, make decisions or generate ideas. Firemen are on the hunt for illegal books, burning them for the good of humanity.
We're guessing most of you haven't read this story since you were 13 or 14, so it's definitely worth downloading the audio book and having another listen. We found new meaning in the book by listening to it at a time in which the themes are probably more relevant than ever.
Fair warning—the audio book starts off a little slow, but hang in there because the pace picks up quickly.  Bradbury does a fantastic job with the narration, reading with conviction and passion, and it's a really cool experience to sit and listen to Bradbury warn us of the consequences of a society set on maintaining censorship at any cost.
Oh, and keep listening to the very end of the audio book. There's a great interview with Bradbury where he discusses the book in detail.
If you're a Fahrenheit 451 fan, you should definitely check out these other great listens: