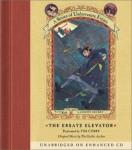 Peanut butter and jelly, milk and cookies, wine and cheese—some things just go better together. And that's exactly how we feel about one of our favorite author-narrator duos, Lemony Snicket (aka Daniel Handler) and Tim Curry.
Audio book lovers know that the most important piece to an audio book can be finding the right narrator. The best of the best add to the story by taking cues from the author's words and making the right artistic decisions so that the story and characters come to life.
When you pair a talented narrator with an incredible story what you have is pure audio book gold. A perfect example is Tim Curry reading stories from Lemony Snicket's collection, A Series of Unfortunate Events. So perfect in fact, when Narrator ratings launched on our site last week, we headed straight to The Ersatz Elevator, the very first Snicket/Curry audio book, to give Curry a 5-star rating.
When Curry came on board to record The Ersatz Elevator, the sixth book in the series, something amazing happened. He took Snicket's already magical story, added his own creative flair, and voila – one of our favorite audio books was created. Curry's uniquely able to bring the sinister creepiness of Snicket's book to life. He gives each eccentric character a distinct voice and personality—switching between the dozens of voices without a hiccup.
Curry is in his element narrating Snicket's over-the-top, touching, funny, fabulous story and that's what makes The Ersatz Elevator one of the top audio books on our list of fave author-narrators. It's a must-listen that will make you want to drive around the block three more times to finish a chapter (and yes, we're speaking from personal experience).
When narrators and authors like these two come together it reminds us why we fell in love with audio books in the first place – the perfect duo can make your listening experience memorable, inspiring, and consuming.
With the help of the new Narrator ratings on Audiobooks.com, you'll be able to easily find great audio books with an equally great narration, including some of our faves below:
And, while you're there, help your fellow audio book fans out by adding a narrator rating to one of your past listens.