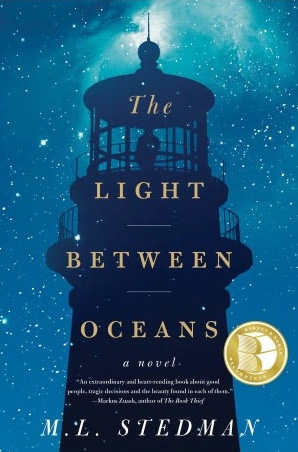 With access to thousands of audiobooks it was only a matter of time before an inter-office audiobook club was formed here at ABC! Our club's first pick was The Light Between Oceans by M.L. Stedman. It turned out to be perfect book club material, sparking a debate about love, marriage and honor. The big question of the book is basically "how far would you go for someone you love?"
Based in Australia, the narrator's Aussie accent helps keep you engrossed in the setting. The book takes place in a lighthouse, where you're introduced to Tom, a dutiful war veteran, and his wife Isabel. Despite their best efforts, they remain childless—until a rowboat washes up on shore with a baby and a dead body inside.
When breaking the situation down our club was divided about what to do if placed in the main characters' situation. Although it's reasonable to want to comfort your spouse in a time of infertility, by keeping the baby they robbed another woman of being able to raise her own child. Despite everything that happens, Stedman does a wonderful job of not influencing your decision over whom to side with: she never gives you a clear-cut "bad guy" or "good guy". She's able to show both sides of the families involved. Although at times the characters felt a bit thin, the plot was gripping enough to carry us past it.
This is a wonderful debut novel from Stedman and we're all excited to see how she grows as a writer in the future. If you're looking for a book for your own club to get people talking (and possibly even shouting), The Light Between Oceans will not disappoint.