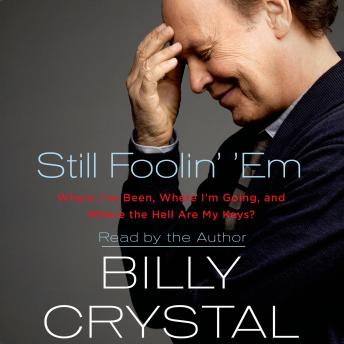 Guess what I just added to my listening list? Billy Crystal's new autobiography Still Foolin' 'Em: Where I've Been, Where I'm Going, and Where the Hell Are My Keys? came out this week. Bound to be hilarious, the fact that he narrates the audio book himself makes it all the more appealing. I've loved Billy Crystal forever (haven't we all?) and this book will no doubt showcase his signature combination of razor sharp wit and engaging sensibility that shines through in every role he plays.
Crystal's career has spanned almost 40 years so it's tough to narrow it down, but here are just six of our favorite roles by this – I want to say 'comedian' but that doesn't really cover the many facets of this singer, actor, writer and director. Let's just call him a powerhouse.
Jodie Dallas in 'Soap'
Crystal's new audiobook touches on the trials of getting old, and I can relate – just about everyone in my office seems to be half my age. But one great thing about being older is that I remember Crystal in his breakout role in 'Soap', one of the most groundbreaking and hilarious shows in TV history. Long before Will met Grace, Crystal played one of the first openly gay characters in primetime. Sadly ABC wussed out and cancelled the highly controversial show but happily it wasn't the last we saw of Crystal.
Miracle Max in 'The Princess Bride'
Crystal's cameo in Rob Reiner's fairy tale comedy was one of the highlights of this beloved classic. Nearly unrecognizable in his make-up, Miracle Max – playing opposite Carol Kane who seemed made for the role of his wizened wife – taught us the difference between 'mostly dead' and 'dead' and the meaning of 'to blathe', and overcame performance issues to ensure that – in the words of Peter Cook's clergyman –  twu wuv carried the day.
Harry Burns in 'When Harry Met Sally'
Oh, Rob Reiner, we have so much to thank you for! Not just for one of the greatest romantic comedies of all time – but for your choice of leading man in said film. Watching Meg Ryan and Billy Crystal play off each other as their relationship evolved from antagonism, to friendship, to love is a sheer pleasure that never gets old. (Note to self: watch 'When Harry Met Sally' again this weekend.)
Host of the Oscars
To paraphrase a certain Oscar winner "We like him. We really like him." If you thought James Franco and Anne Hathaway were awkward, you obviously don't remember Rob Lowe hosting the Oscars in 1989. (Sorry Rob, you're cute but…) Cue Billy Crystal in 1990. He has the pipes to carry a tune, the comedy chops to deliver the zingers (but with a gentle enough touch not to let them sting) and an everyman quality that just makes him appealing across the board. After nine outings, we haven't tired of his charm.
Mitch Robbins in 'City Slickers'
After 'When Harry Met Sally' proved Crystal could carry a blockbuster film, his next outing had him dusting off Jack Palance for this mid-life crisis flick meets buddy picture meets Western. Crystal finds himself not at all at home on the range, with hilarious results.
Mike Wazowski in 'Monsters Inc.'
Crystal teamed up with Disney to play a neurotic, one-eyed monster in this sweetly funny children's film. As Mike, the hapless sidekick to John Goodman's Sully, he demonstrates once again how, even at his crankiest, we can't help loving Billy Crystal.