Elementary school students Jon and Chloe are besties in a world that doesn't understand them. They spend innocent time at their playhouse in the woods, and they both seem aware in a childlike way that they're romantically destined for each other. But when their evil substitute teacher kidnaps Jon to run experiments on him that make him fatal to anyone with whom he shares an emotional connection, their fated romance is in serious jeopardy.
Jon's kidnapping spans several years, and while he doesn't have any memory of his time away, Chloe has had to struggle through high school without him. She has fallen in with the popular crowd, and fallen in love with the archetypal high school enemy: a jock who used to bully Jon. When Jon is finally released (or perhaps a more fitting verb would be unleashed) into the world by the teacher, he, Chloe and the jock have some reckoning to do.
"I am Providence."
That line, along with other Lovecraftian homages, echoes like a mantra throughout this eerie read. Indeed, fans of H.P. Lovecraft, the O.G. of American horror writing, will probably find the most enjoyment in this third novel by Kepnes. It centres heavily on the 1929 Lovecraft title The Dunwich Horror, which Jon is convinced holds the key to understanding what happened to him during his kidnapping, and how to reverse its monstrous consequences.
The book is told from switching perspectives; each chapter is alternately told by Jon, Chloe or "Eggs" – the aging, obsessive investigator self-assigned to Jon's case. Narrators Paul Michael, MacLeod Andrews, and Emily Rankin do a great job of capturing the main characters, adding a yearning, plaintive humanity to each of their struggles.
If you like unrequited YA romance with a hint of the supernatural, then Providence by Caroline Kepnes is the perfect summer read.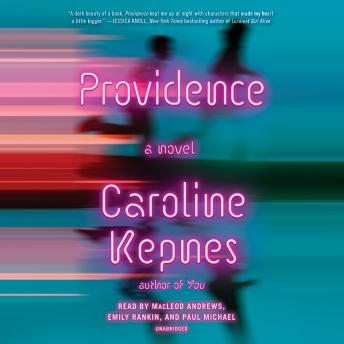 Read more and sample the audio.
New to Audiobooks.com? Get a free audiobook when you sign up for our one month free trial. Digital audiobooks make audible stories come to life when you're commuting, working out, cleaning, cooking and more! Listening is easy with our top-rated free audiobook apps for iOS and Android, which let you download & listen to bestselling audiobooks on the go, wherever you are. Click here to get your free audiobook!