When it comes to romance and books that melt my heart, I tend to lead towards the classics: Pride and Prejudice, Romeo and Juliet, Wuthering Heights. This month, I chose to step outside my comfort zone and I chose contemporary chick lit author Madeline Wickham's book The Gatecrasher. (Okay, I admit it–I picked the book mainly because the author's name is tied to Pride and Prejudice, my all-time favorite book. I thought it must be a good sign.) And I must admit, I was pleasantly surprised at how much I enjoyed the book.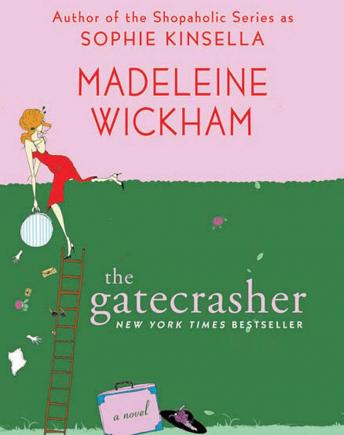 The Gatecrasher tells the tale of a gold digging woman Fleur, who falls for the man she was set to take advantage of.  Add to the mix a moody teenage daughter, a gay best friend, a mysteriously absent father, gossiping golf club ladies, a defrauding relative and woman on the brink of a nervous breakdown and you've got one novel full of intrigue and laughter.  Oh, and did I mention that Fleur met her latest prey at the funeral for his wife?  This book is just full of characters for you to hate, to root for and to plot the way all their dirty little secrets should be exposed publicly.
Thanks to Katherine Kellgren's excellent narration, the book's pace draws you in and keeps you listening. She is able to make Fleur seem not so detestable and offer up some of Fleur's vulnerability through her narration.  And for me, it was the vulnerability of not only Fleur but the majority of the characters that made this story work so well.  Because Madeline Wickham (a.k.a Sophia Kinsella, author of the much-beloved "Shopaholic" series of chick-lit novels) created a story that shows the best and the worst of love and all its trappings in this day and age, I realized that I may be able to explore more of the contemporary romance genre after all.
Let me know your thoughts!