This month, I chose to listen to an audiobook that plays on emotions and I was steered towards The Kite Runner by Khaled Hosseini.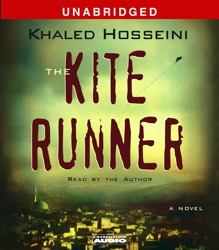 The audiobook was a great listen; it was read by the author, which in my opinion is the best way for an audiobook to be narrated. This went a long way for this book in particular because it tells the story of an Afghani boy, Amir, and includes many terms in his native tongue which I would have struggled to read. It also didn't feel like someone was preaching to me but rather having a conversation with me, describing every nuance with outstanding detail.
What really set this apart from a book is the amount of emotion that you feel as the story progresses. In case you are unfamiliar with the story, this is not a happy story. It feels at times like a Lemony Snickets movie as Amir is definitely a victim of Murphy's Law, and you suffer with him as he goes through event after painful event.  When Amir feels guilt, you remember the things you are guilty of.  When Amir feels sorrow, the things that sadden you suddenly come to the surface.  You laugh, hate and even love with him as time ticks by in the story.
Overall, The Kite Runner was a very good story and I am glad that I listened to it. The author does such a good job of narrating the book, you almost feel as if you're looking through his eyes at times.
Let me know what you think!