Virginia Woolf has always been a favorite author of mine.  Her flowing prose, her introspection and her stream of consciousness writing style all appeal to me greatly.  My paperback copies of Mrs. Dalloway, The Waves, The Voyage Out and A Room of One's Own are well worn and full of marginalia and post it notes.
How would my beloved Virginia Woolf's style translate into audio?  Would I be able to get as much out of the audio version as I would the paperback?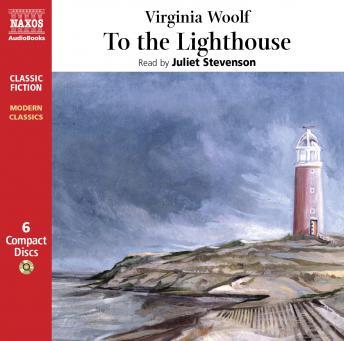 To the Lighthouse is considered to be the most accomplished novel written by Virginia Woolf.  Yet for some readers, it's much too dull and slow moving.  I wouldn't argue that it can be trying at times–because let's face it, not much actually happens in this one.  The story focuses on a group of family and friends visiting their summer house just before World War I and then jumps to a decade later as some of the group return to the summer house after the war. In both visits, a trip to the lighthouse that sits just offshore is proposed. But what makes this book so wonderful is not what happens (or what doesn't happen, for that matter).  It's the way in which Woolf weaves her character's thoughts together to create a deeply reflective commentary on small conflicts between individuals, large conflicts between societies, memory, perceptions, and time.
Juliet Stevenson does a marvelous job in her narration.  I cannot say enough about her wonderful delivery of a dense book.  I wholeheartedly believe that thanks to Juliet Stevenson's reading, this book was somewhat easier to follow and enjoy.
So how did I fare trying out To the Lighthouse in audio? Wonderfully. Did I get as much out of Virginia Woolf in audio as I would have in paperback?  Absolutely. A great book is not always a great book in different formats; but, thanks to Juliet Stevenson's wonderful reading and Virginia Woolf's lyrical prose, the book was just as thought provoking, entertaining, enlightening as any other that I've enjoyed by Woolf. Now I just have to find a place for all of my post-it notes that I wrote while listening!
Let me know what you think!