Now look here: I've never been hunting, the thought of fishing makes me queasy, and I don't own anything in camouflage, but I love the Robertson family from "Duck Dynasty". More to the point, I loved Uncle Si's new audiobook Si-Cology 1: Tales and Wisdom from Duck Dynasty's Favorite Uncle.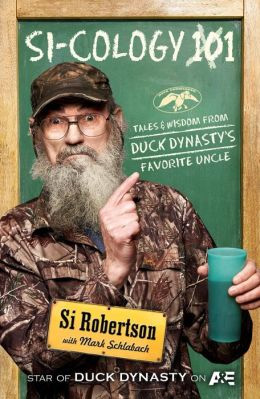 After attending a family Halloween party where my uncle came dressed as Uncle Si, I had to judge the authenticity of his costume for myself. Sure enough, his costume was spot on – even down to the Iced Tea jug and cup—and my interest was piqued. After watching a few episodes, I decided to listen to The Duck Commander Family and Happy, Happy, Happy, both of which are fantastic reads. They give you a great background on how this family functions and how they became the men and women they are today.
Having enjoyed both those titles for their humor and life lessons, I waited patiently for the new book by the fan favorite Uncle Si, and I wasn't disappointed. Si-Cology 1 is full of Uncle Si-isms, tall tales and general advice. He's lived an interesting life, and thankfully has been blessed with the art of storytelling so we can all share in his memories. In true Uncle Si fashion, he tells it straight, but with a little flair.
The audiobook starts out with an introduction read by Uncle Si. Jay Stone then takes over to deliver a hilarious reading, staying true to Uncle Si's manner of speaking. We learn about his childhood, his teenage years and his time spent in Vietnam. What surprised me most was the serious tone Uncle Si took while talking about his marriage and raising their two children while in the Army. Uncle Si is an onion, with many layers – most will make you cry with laughter but all in all, he's a man dedicated to his family. He truly lives with the best intentions and best wishes for his family and friends.
Si-Cology 1: Tales and Wisdom from Duck Dynasty's Favorite Uncle is a quick listen that's full of wonderfully funny and insightful stories, and I for one hope Uncle Si follows up with a sequel–and "That's a fact, Jack!"