Thanksgiving marks the beginning of the holiday season! This week is likely to be your first of many family dinners to come over the course of the next six weeks. No matter how long your journey home takes, we've got you covered with a read that will make traveling that much more enjoyable.
Start Without Me, by Joshua Max
In an airport restaurant on Thanksgiving morning, Adam and Marissa meet. Over the course of this day fraught with emotion and expectation, these two strangers will form an unlikely bond as they reckon with their family ties, their pasts, and the choices that will determine their way forward… Listen here.
Hey Harry, Hey Matilda, by Rachel Hulin
Matilda Goodman is an underemployed wedding photographer grappling with her failure to live as an artist and the very bad lie she has told her boyfriend (that she has a dead twin). Harry, her (totally alive) brother, is an untenured professor of literature, anxiously contemplating his publishing status (unpublished) and sleeping with a student. When Matilda invites her boyfriend home for Thanksgiving to meet the family, and when Harry makes a desperate-and unethical-move to save his career, they set off an avalanche of shame, scandal, and drunken hot tub revelations that force them to examine the truth about who they really are… Listen here.
Thanksgiving, by Janet Evanovich
When it comes to men, Megan Murphy has an aversion to "I do". Then she meets irresistible pediatrician Pat Hunter. Add in a cozy colonial cottage, the world's biggest turkey, two hopeful families, and a skirt-chomping rabbit, and you've got a feast of fabulous fun! Listen here.
The Diva Runs Out of Thyme: A Domestic Diva Mystery, by Krista Davis
Few can compete with the Natasha Smith when it comes to entertaining, but her childhood rival, Sophie Winston, certainly tries. While Natasha is known for her intricate centerpieces and painstakingly prepared gourmet meals, Sophie likes to keep things simple . . . real simple. Natasha may have stolen the spotlight—and Sophie's husband—but Sophie is determined to take home the prize at the Stupendous Stuffing Shakedown. She just needs the right ingredients… Listen here.
Quilter's Holiday, by Jennifer Chiaverini
For the Elm Creek Quilters, the day after Thanksgiving marks the start of the quilting season, a time to gather at Elm Creek Manor and spend the day stitching holiday gifts for loved ones. This year, in keeping with the season's spirit of gratitude, Master Quilter Sylvia Bergstrom Compson Cooper is eager to revive a cherished family tradition. A recent remodeling of the manor's kitchen unearthed a cornucopia that once served as the centerpiece of the Bergstrom family's holiday table. Into it, each Bergstrom would place an object that symbolized something he or she was especially thankful for that year. On this quilter's holiday, Sylvia has invited her friends to continue the tradition by sewing quilt blocks that represent their thankfulness and gratitude… Listen here.
Strangers at the Feast, by Jennifer Vanderbes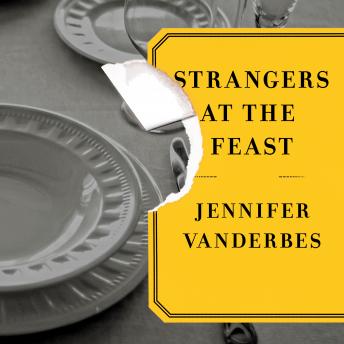 On Thanksgiving Day 2007, three generations of the Olson family gather. Eleanor and Gavin worry about their daughter, Ginny, an unmarried academic in her thirties with a newly adopted Indian daughter, and about their son, Douglas, who has recently been caught in the imploding real-estate bubble. But Ginny and Douglas, determined to have a perfect holiday, keep their troubles secret, a skill they have learned from their parents… Listen here.
The Thanksgiving Day Murder, by Lee Harris
More than a year ago, Natalie Gordon went to buy a balloon at the Thanksgiving Day Parade and dissolved into thin air. The police and a private investigator still have no leads. So when Natalie's despairing husband pleads with ex-nun Christine Bennett to help, she can't say no. What she finds is a cast of characters so chilling that murder seems not only invisible but likely to happen again… Listen here.
Have a happy Turkey Day and let us know what you think of these reads!