Imagine waking up not knowing who you are. You feel like a twenty-something, but when you look in the mirror, there's a mature woman staring back–twenty years of your life gone in the blink of an eye.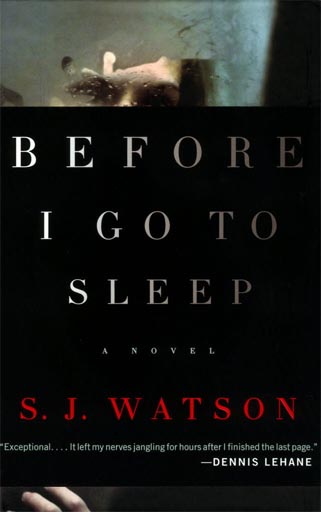 This month's ABC book club selection was S.J. Watson's debut novel Before I Go to Sleep. For main character Christine, a traumatic experience has taken away her ability to form new memories and left her with only the knowledge of life before her mid-twenties. Each day she wakes up next to a stranger–in actuality, her husband–and has to trust this man to tell her who she is and piece her identity together bit by bit. It isn't until a phone call from a man claiming to be her doctor brings what small structure she has into question that she begins to unravel her own story.
This is Watson's first novel, minimally cast with a few core characters and a heavy emphasis on building psychological tension for the reader using slow, deliberate pacing. The strategic use of repetition was deftly applied to help submerge the reader in the daily reality of living of a memory disorder. While the small character count and limited settings helped to convey to the reader exactly how small Christine's world had become, it began to feel slightly claustrophobic at times to be stuck with the same cast of three for the majority of the book. The narration was compelling, though our group felt certain scenes could have been shortened or even omitted without affecting the overall plot.
The main talking point our club took from this story was, "how far does love really go?" What would you do if your wife was technically still the woman you married, but in reality wasn't her anymore? The book itself is full of points to discuss, but also opens up the conversation for debate about mental health and family.
The book has all the makings of a great thriller film, and is going to be making the jump from page to screen next year with a movie adaptation featuring Nicole Kidman.