Demons: Check.
Vampires: Check.
Werewolves: Check.
Kick-ass characters: Double Check.
Sophisticated sarcasm: Triple Check.
It's easy to see why Cassandra Clare's "The Mortal Instruments" trilogy is one of the hottest YA series of the year: it's got everything required of a hit Urban Fantasy, and then some. The first book, The City of Bones, really caught my attention when I saw the action-packed, eye-candy filled trailer for the movie adaptation. I had a momentary dilemma—should I listen to the book first, or wait for the movie?—and then ended up devouring the audiobook weeks before its theater release on August 21.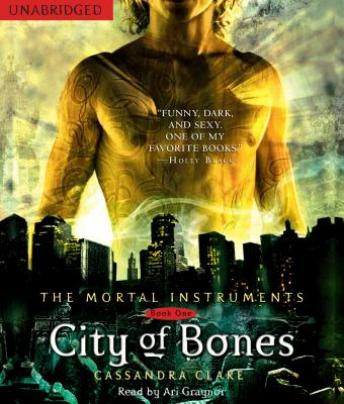 To get you up to speed: set in the city that never sleeps, 15-year old Clary Fray's trip to Pandemonium Club in New York City is turned upside down when she witnesses a murder. To make matters worse, no one else–including her best friend, Simon–is able to see it. She later encounters one of the tattooed killers and learns that he is a shadowhunter: a warrior dedicated to ridding the earth of demons. Her "mundane" (i. e. regular human) status soon comes into question: Clary learns that she's got the makings of a fantasy heroine through her mysterious lineage, and suspenseful discoveries and battles against mythical creatures abound.
In "The Mortal Instruments trilogy", Cassandra Clare peels back the glamour to reveal the supernatural woven into reality. Clare creates a brilliant world of vampires, demons and fairies that walk among "mundanes". The balance of action-packed scenes with tender, endearing movements offers something for every reader. Ari Graynor does an excellent job of narrating the book, making it seem much shorter than its length of 14 hours 15 minutes. She reads all the characters (male and female, equally well) with distinct voices and tones, giving them a unique personality. I highly recommend listening to the audiobook before watching the movie, to better appreciate the depth of the characters and enjoy the sarcasm in its entirety.