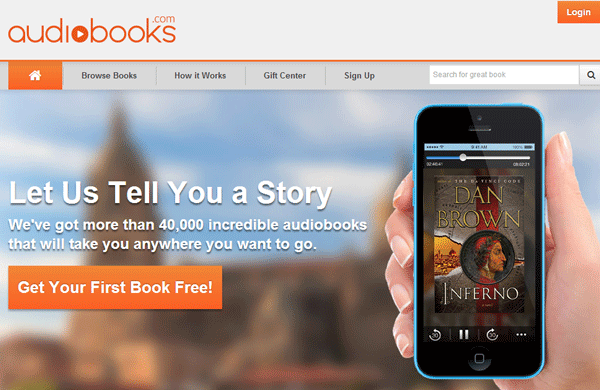 While we were planning our recent site redesign, we took a bit of time out to survey some of our listeners and find out their favorite things about the Audiobooks.com service. They had a lot to say! Here are some of their top responses about why they love Audiobooks.com:
1.       I Can Download OR Stream Instantly
"Love the ability to listen to downloaded books without streaming."
"I love streaming book after book."
One of our listeners' favorite features is the ability to listen to books instantly by streaming. But if you prefer to listen offline – perhaps you're planning to travel – you can also go into settings and select the 'Download' option. Your book will be saved for listening anywhere.
 2.       Simple to Use App
"Easy set up and love its instant upload capability."
"It's perfect and easy to use!"
The ease-of-use of the Audiobooks.com app for mobile devices is one of the most popular aspects of Audiobooks.com. Just download the app from the iTunes or Google Play store and you're ready for listening anywhere. The streamlined, easy-to-read dashboard lets you browse books to download or stream instantly, and always takes you back to where you left off.
 3.       A Wide Variety of Popular Titles
"Your audiobook service is easy to use, up to date on the new releases – a must have for any serious audiobook fan."
Our listeners love that they have over 40,000 audio books to choose from – including the latest, best-selling titles from top publishers. And at Audiobooks.com we're growing our database all the time – so there are always new titles to choose from.
4.       I Can Keep My Books FOREVER
"I love that all of my books are stored for me in case I want to listen again!"
Audiobooks.com stores your books for you so you can always go back and access your favorites. All of your books are stored in 'My Books' so you can revisit them later.
5.       Cheaper than Regular Audiobooks
"Audiobooks.com has provided many books for me to listen to at a very reasonable price. I have loved all I have listened to."
"I can listen to 2 books a month for the price of one."
Many of our listeners have found that the cost of audiobooks can be prohibitive – some are upwards of $40! With our simple, monthly subscription, listeners can enjoy the latest releases at the low price of just $14.95 a month, and get additional books for just $10.
6.       Amazing Customer Service
"Customer Service is VERY helpful on the rare occasion I need to contact them."
"Great customer/technical service"
"Customer service responses are very fast. I've already recommended it."
Our listeners appreciate the fact that when an issue comes up, they can instantly reach out to our helpful, friendly customer service department. We're here to assist with questions about our app, answer inquiries about book availability, or resolve any technical problems that may have you stumped.
7.       The Ability to Listen on Multiple Devices
"Listen on the phone, listen on computer, ipad, etc. anytime, anywhere – what's not to like?"
With our unique Cloud Bookmarking feature, Audiobooks.com lets you switch back and forth between devices as you listen – and never lose your place.
8.       Convenience
"Audiobooks are great drive-time company. Many of us live such hectic lives we don't have time to read, but we do have time to listen. LOVE the service."
"Listening to audio books makes all those 'less fun' tasks (like exercising, cleaning house, & driving) much more enjoyable!"
"There's no wait for a book."
"Best way to read books EVER!"
Our listeners love that fact that whether you're driving, doing housework, working out or walking the dog, Audiobooks.com quickly and easily allows you to incorporate reading into your everyday life.